Rural folk music is popular in Albania, passing teachings across the generations. In the nineteenth century Albanian nationalism inspired many to attempt to remove the elements of Turkish music from Albanian culture, a desire that was intensified following independence in 1912.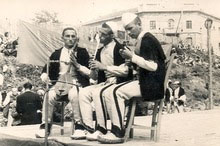 The Albanian Urban Song style began in the eighteenth century. Urban song in the early twentieth century were either historic/nationalistic or lyrical in style. Marie Kraja was one of Albania's first popular singers, making a career from urban songs.
Urban music is a mix of local and imported styles. The style was most popular in the cities of Shkodra, Elbasan, Berat and Korça. Considered a cultural centre of Albania, Shkodër's twentieth century music is considered one of the most sophisticated in the country, with music artists from the city including Bujar Qamili, Luçie Miloti, Xhevdet Hafizi and Bik Ndoja.
Tirana's popular music was dominated by Romani influences. The most popular international artists from Tirana are Merita Halili, Parashqevi Simaku, and Myslim Leli. The first recordings of urban song came in 1937, with the orchestral sounds of Tefta Tashko-Koço.
Modern Albanian popular music is performed at small weddings and celebrations, including music by contemporary artists Vaçe Zela and Pavlina Nikaj, both from Tirana.
Tallava
Tallava is a music genre with an oriental-sound that is becoming increasingly popular in Albania. It is identified as part of the wider Pop-folk genre of Southeastern Europe, which includes Chalga (Bulgaria), Skiladiko (Greece), Manele (Romania) and Turbo-folk (Serbia). Famous musicians include Nexhmije Pagarusha, Ismet Peja and Qamili i Vogël.
Classical music
Çesk Zadeja is the Father of Albanian classical music. Zadeja composed in many styles, from symphonies to ballets and also helped found the Music Conservatory of Tirana, the Theatre of Opera and Ballet, and the Assembly of Songs and Dances. Lec Kurti composed the first Albanian opera "Arbereshja" in 1915. Martin Gjoka, a composer of modern classical music that used elements of urban song and folk melodies. Later, the Albanian-American émigrés Fan S. Noli and Mikel Koliqi achieved some renown, with Noli wirh his Byzantine Overture. Koliqi, with his melodramas including The Siege of Shkodër, The Red Scarf and Rozafa. Other famous composers include Thoma Nassi, Kristo Kono and Frano Ndoja.
Prenk Jakova is well known for operas including Scanderbeg and Mrika, which were influenced by Albanian folk song. In the later part of the twentieth century Albanian classical composers include Tonin Harapi, Tish Daija, Nikolla Zoraqi, Thoma Gaqi, Feim Ibrahimi, Shpëtim Kushta and more.
After the communist regime
Since the fall of the Communist regime, the Society of Music Professionals and other music associations have supported new composers including Aleksandër Peçi, Ramadan Sokoli, Sokol Shup, Endri Sina, Pëllumb Vorpsi and Vasil Tole.
Rock music was prohibited before 1990, but in 1999 singer and entertainer Ardit Gjebrea founded the Kënga Magjike festival. This is just one of several annual festivals showcasing Albania's music artists including Turtle Fest and Soundwave Albania.